100% MADE IN FRANCE
Our mission is to bring a global approach to caring for all aspects of a woman's intimate life, with essentials for hygiene, beauty and pleasure. Clinically tested by gynecologists and dermatologists. All of our products are paraben, soap and colorant FREE.
Aging, hormonal changes and inflammation factors, like dryness, irritations, chafing and stress, can alter skin's beauty, even in the most intimate areas. It becomes fragile, loses its plumpness and radiance. The skin's pigmentation becomes less even, like the edges of flower petals darken over time.
WOMAN ESSENTIALS is a French cosmetic brand with a global approach to women's intimate life, and a specific answer for every issue.
Discover Woman Essentials DEO BLANC Brightening Soothing Deodorizing Care Mist for even-toned skin and a 24h freshness.
Innovation: 2-in-1 deodorant for the body and its most intimate areas.
Our armpits, breasts and intimate area are very fragile as they house our lymph nodes, an essential part of our immune system. Switching to a natural deodorant is a great way to limit the introduction of toxic chemicals into your body and avoid making it more vulnerable.
Discover Woman Essentials BB DEO Skin Balancing Deodorising Mist with Probioticsfor a healthier, more beautiful skin and a 24h freshness.
Innovation: 3-in-1 deodorant for the body, intimate areas and bust line.
Soothes, balances skin, and deodorises.
Specially formulated for very sensitive or atopic skin.
Light unisex fragrance suitable for men or women.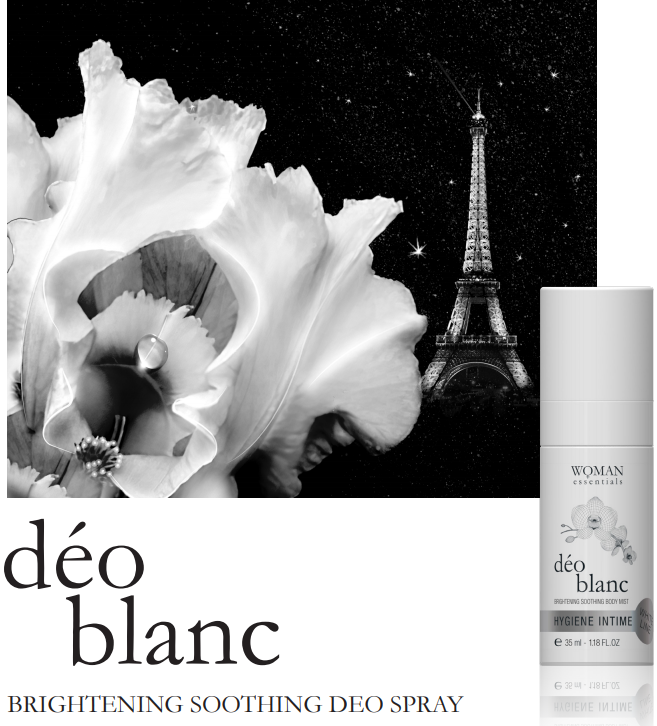 CLEAN, NATURAL, VEGAN
Delicate skin-balancing deodorising care mist with probiotics for a long-lasting 24-hour feeling of freshness.

Deodorizes, detoxifies, maintains healthy skin

flora while effectively fighting bad odors.

98% natural active ingredients

. Without aluminum salts or parabens.
Light and fresh, it doesn't cover body odors with a heavy scent. Applied after cleansing, it avoids bacterial proliferation and leaves a discreet and pleasant smell of clean skin.
Daily care for fragile, atopic skin and all delicate areas (intimate, groin, butt etc.)
Gentle botanical formula for ultra sensitive skin, mucous membranes and bustline. Purifies from toxins, regulates skin microbiome to protect from odor caused by bacterial proliferation 24/7 and enhances skin texture:
Bio-regenerative Orchid

: anti-aging, soothing, revitalizing.

Furcellaria lumbricalis extract (Red Baltic algae):

anti-oxidant, detoxifying and anti-pollution properties. .

Pre and Probiotics

for a healthier flora and more beautiful skin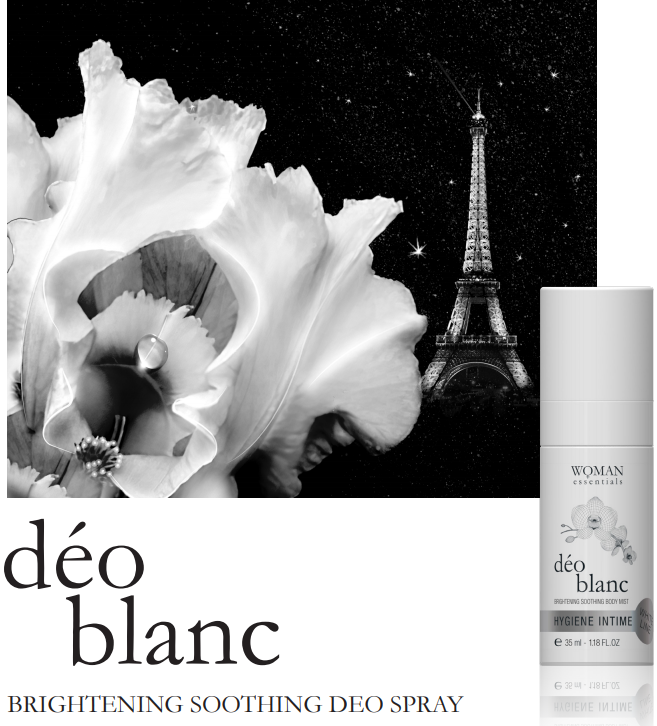 Regenerates skin, corrects hyperpigmentation.
Bio-Regenerative Orchid infused with skin-lightening Star Lily extract andhealing Aloe Vera soothe, moisturize sensitive skin and prevent irritation while avoiding bacterial proliferation related to bad odors. Lactic Acid helps to gently exfoliate, correct hyperpigmentation and soften the skin.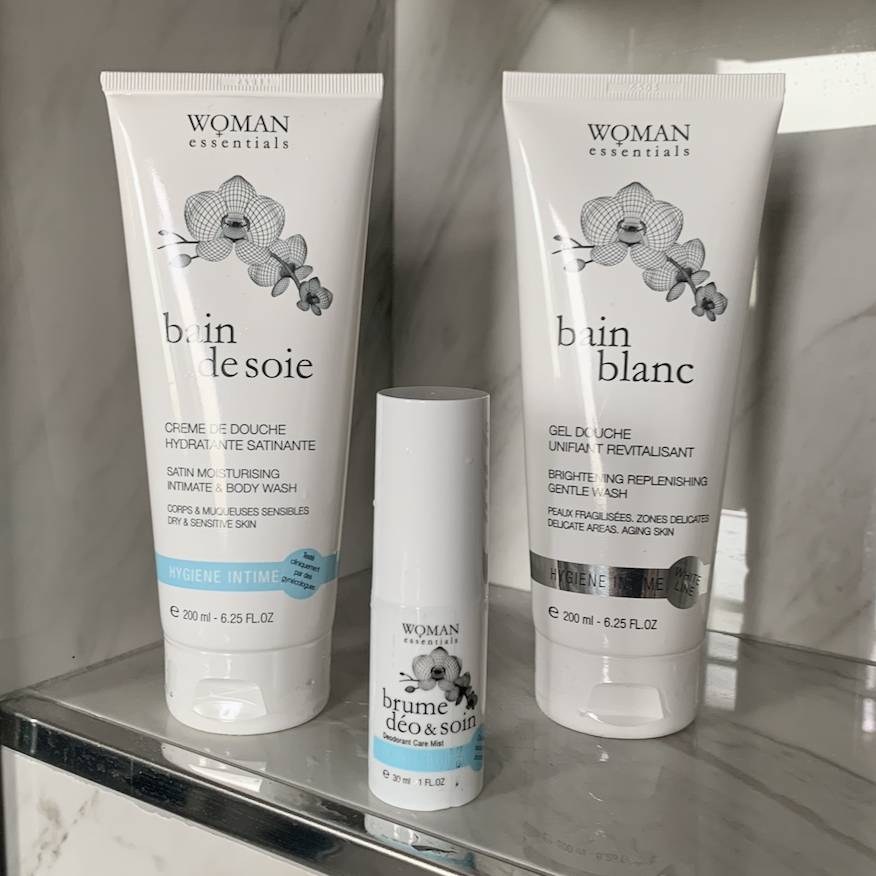 DIRECTIONS FOR USE: apply to dry skin after cleansing, and at any time throughout the day.
A 2-in-1 formula for intimate mucous membranes and body eliminates the need for multiple deodorants. Proven 24-hour anti odor effectiveness and a radiant smooth skin.

This natural deodorant purifies skin from toxins. It does more than cover up unpleasant odors with a strong fragrance—it actually stops them from forming. Its subtle fragrance merges with the skin to leave behind a discreet scent of freshness.

Apply one or two sprays to dry skin after cleansing with Bain de Soie feminine wash. For a smooth & silky finish, use with Baume de Beauté to avoid discomfort due to underwear chafing. External use only.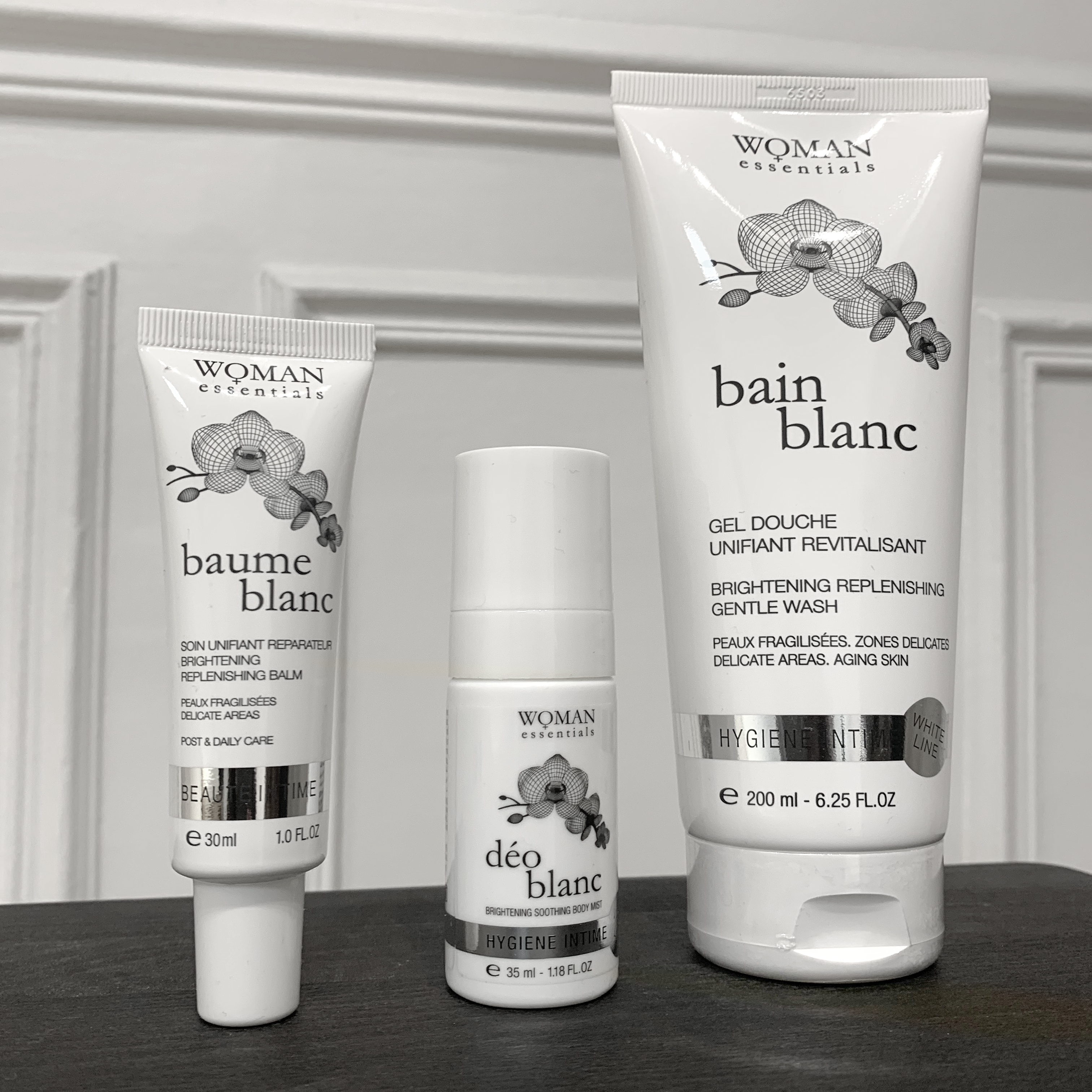 STEP 1: CLEANSE – discover your optimal Woman Essentials beauty routine
BAIN DE SOIE

Satin Moisturising Intimate Wash (blue line): ultra rich texture to hydrate and prevent UTI's.

BAIN BLANC

Brightening Replenishing Gentle Wash (white line): to strengthen intimate microbiota and prevent signs of ageing.
STEP 2: DEODORIZE – discover our intimate & body deo mists
BB DEO (pink) : Detoxifying Skin balancing – ideal for sensitive, atopic skin or delicate areas like groi, butt, breasts. Woody Fresh.

DEO BLANC (silver):

Brightening Skin perfecting – ideal for fragile or ageing skin prone to hyperpigmentation. White linen & flowers.

BRUME DEO & SOIN (blue)

: Refreshing Soothing Moisturizing – Ideal for dry or shaved skin. Citrus fresh.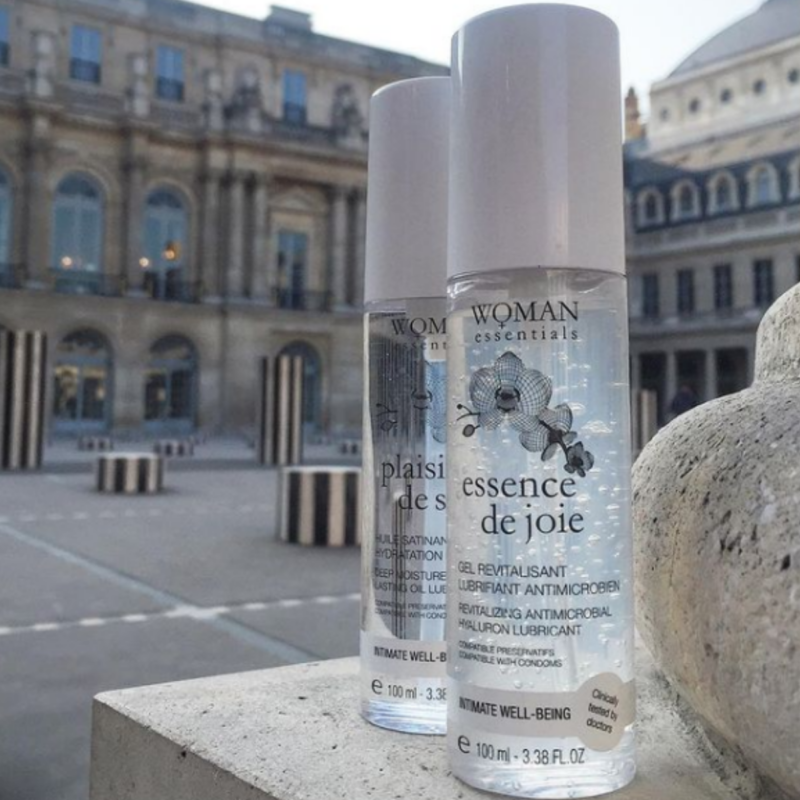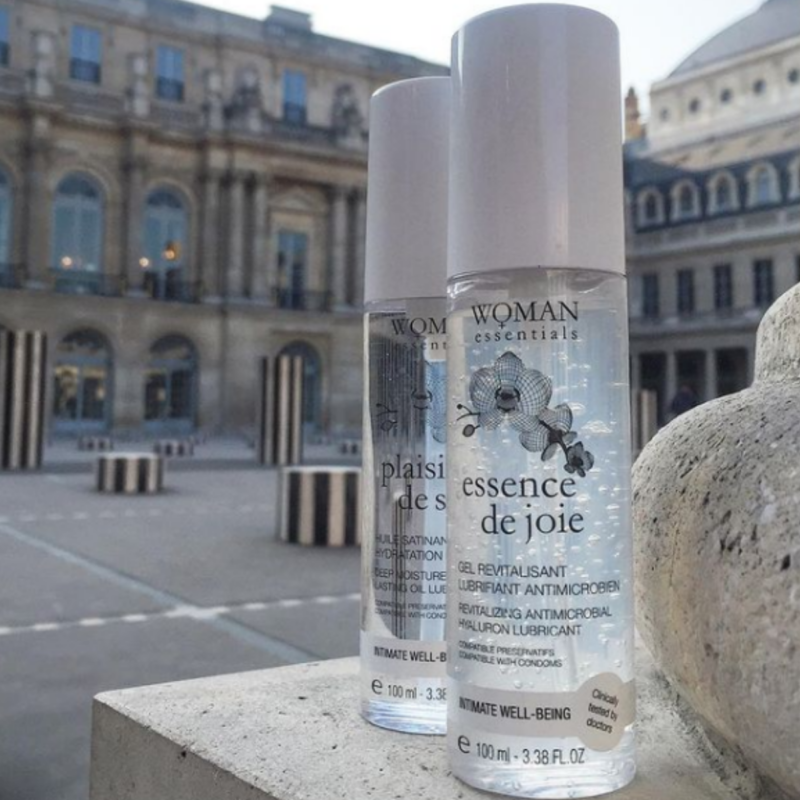 STEP 3: PLEASURE AND WELL-BEING
Baume de beauté Soothing Conditioning Beauty Balm (after hair removal or to speed up the healing process of small cuts, scars and avoid ingrown hair).

Baume Blanc

Brightening Replenishing Balm (to even skin tone, and soothe skin after laser or chemical peel treatments). Suitable for delicate areas (underarms, nipples, groin…)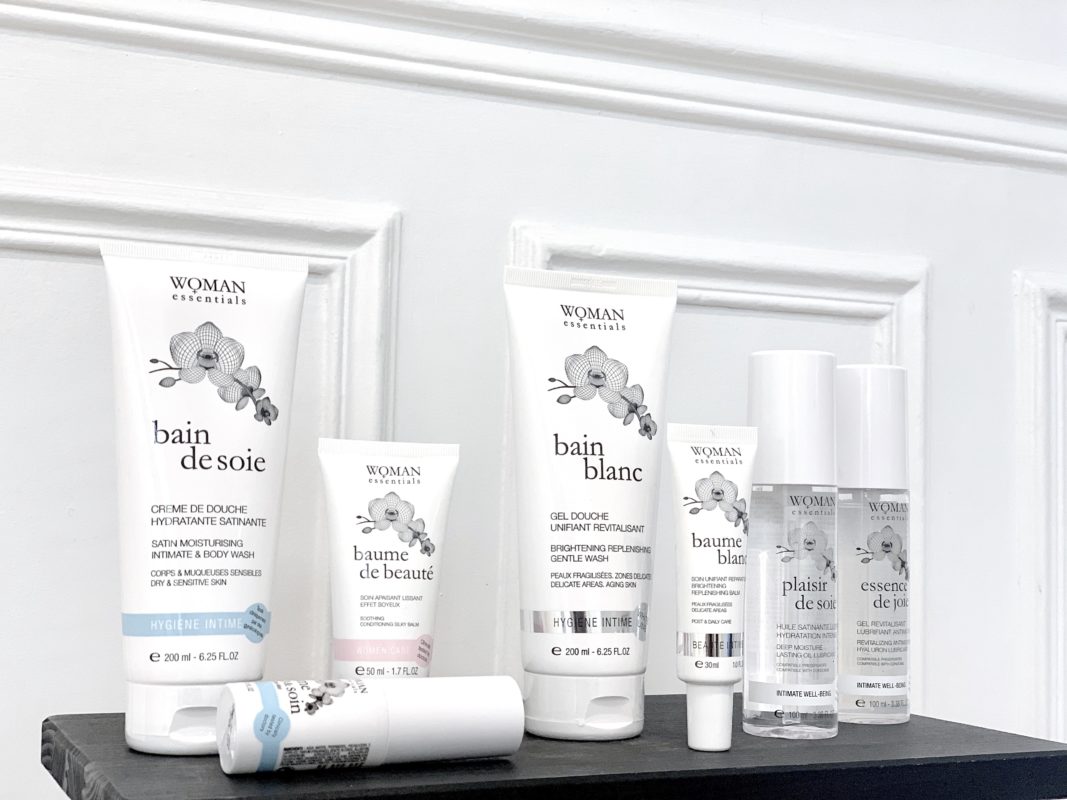 WOMAN ESSENTIALS: cutting-edge cosmetic expertise applied to Gynecology. A global approach to Women's intimate life.
Along with ultra strict clinical protocols, we go beyond the European Regulations of cosmetics and medical devices. 100% Made in France. All our products are paraben, soap and colourant FREE. Specifically developed for sensitive skin, mucous membranes and areas with body hair, the range is suitable for all. To be used on a daily basis besides pathologies, or in conjunction with treatments (laser, chemical peeling etc.).
| | | | | | | |
| --- | --- | --- | --- | --- | --- | --- |
| | BAIN BLANC Brightening Replenishing Wash 200ml | BAIN DE SOIE Satin Moisturising Wash 200ml | BRUME DEO&SOIN Intimate deodorant fresh mist 35ml | BAUME DE BEAUTE Intimate Care BB Balm 50ml | BAUME BLANC Brightening Replenishing Balm 30ml | PLASIR DE SOIE Lasting Massage Oil and lubricant 100ml – 40ml |
| USE | Daily Intimate and body hygiene. | Daily Intimate and body hygiene. | Daily Intimate and body hygiene. | Daily care: bikini, delicate areas. | Body and delicate areas care. | As massaging oil or personal lubricant. |
| INDICATION | Hyper pigmentation. Ageing, weakened skin. Intimate dryness. | Dry, sensitive or baby skin. Suitable for post-natal or surgery. | Dry, sensitive or shaved skin. Unisex. | Epilation (irritations & ingrown hair). Scars & Post-pregnancy care. | Hyper pigmentation. Ageing, weakened skin. Post-procedure care. | Intimate dryness & irritation, painful intercourse. Laser recovery care. |
| BRIGHTENING EFFECT | ✓ | | | | ✓ | |
| BENEFITS | Brightening & rejuvenating ultra-gentle wash. Strengthens the intimate flora like probiotic. Ideal for menopause. | Moisturising and skin conditioning effect. 24h protection of healty vulvar microbiota. | 99% Natural formula Protects, smoothes, moisturises. 24h Anti odour effect. | Moisturizes, restores a smooth silky texture for the skin and hair. Favours wound healing, improves scar appearance. | Immediate soothing & regeneration. Efficient whitening. Prevents post procedure infections and bad odors. | Ideal for body massage & intercourse. Up to 72h Lasting hydration. Stimulates collagen production. |